The 112th session of the Council of Ministers of the Organisation of African Caribbean and Pacific States (OACPS) meeting is being held virtually between 07-08 July 2021
July 8, 2021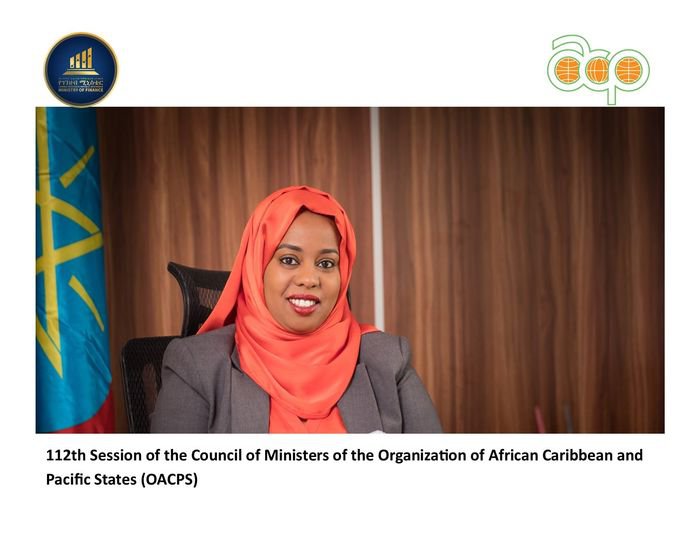 H.E. Ms. Yasmin Wohabrebbi, State Minister of Finance, leading a delegation from Ethiopia including the Brussels Head of Mission, H.E. Amb. Hirut Zemene, is participating in the Council session.
The OACPS Council of Ministers meeting has been deliberating on issues that concern the partnership of OACPS-EU and signing of the post-Cotonou partnership agreement, ongoing reform activities of the OACPS secretariat, common issues of concern including the COVID-19 pandemic, and other activities of the OACPS Secretariat.
During the session proceedings, the Ethiopian delegation positively noted the progress made to conclude the post-Cotonou negotiations which will allow for continuing the exemplary and historic OACPS-EU partnership. The progress made thus far through the partnership includes the reform activities of the OACPS Secretariat to realize a modern, financially independent, and fit-for-purpose Secretariat of the OACPS that is able to advance global cooperation agendas such as reducing the impacts of COVID-19 and ensuring equitable distribution of vaccines.
The Organization of the African, Caribbean, and Pacific States (OACPS), formerly known as the African, Caribbean, and Pacific Group of States (ACP), is an organization created by the Georgetown Agreement in 1975. The OACPS is composed of 79 African, Caribbean, and Pacific states, which binds them to the European Union.
The new partnership agreement between the OACPS Member States and the EU replacing the Cotonou Partnership Agreement is expected to be signed by the end of 2021 or the beginning of next year.