---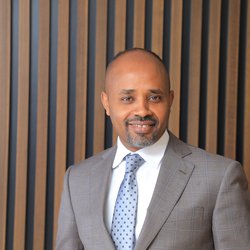 ---
---
H.E Dr. Eyob Tekalign
State Minister of Fiscal Policy and Public Finance
---
Dr. Eyob Tekalgn Tolina is currently a State Minister of Ethiopia's Ministry of Finance. Previously, he was Minister in charge of Ethiopia's National Planning Commission. Mr. Tolina has spent over eighteen years helping shape Ethiopia's economic and social development through various responsibilities within leading public, private, supranational, multinational, and academic institutions..
Mr. Tolina's diverse background has spanned a variety of roles such as Minister Counselor at the Embassy of Ethiopia in Washington D.C., advisor to the Ethiopian governors of the IMF and World Bank, government and public affairs consultant to Fortune 500 multinational Dow Chemical, and his work for different government agencies including Ministry of Foreign Affairs and Ministry of Trade. Mr. Tolina has managed the Ethiopian Public Private Consultative Forum(EPPCF), the major platform for policy deliberation between the government and the private sector in Ethiopia. Mr. Tolina has also worked for a number of regional and international organizations including UNECA, COMESA, UNCTAD, the World Bank Group and the International Finance Corporation (IFC). Before his current role, Mr. Tolina has served as a director at SGI Frontier Capital, an American investment firm focused on the World's Frontier Markets.
These experiences have given Mr. Tolina a unique, balanced perspective on the challenges and opportunities facing developing countries like Ethiopia, a country that is aspiring to become the economic growth engine of Africa in the decades ahead.
Mr. Tolina is a political economist with strong skills in team building, effective advocacy, private equity investing, strategic planning, portfolio management, public relations, private sector development, and policy analysis. Mr. Tolina has a Masters from the George Washington University in Washington D.C and a PhD from University of Maryland's School of Public Policy focusing on political economy.