"Ethiopia is one of the few countries across the globe that has managed the pandemic through early planning &response interview of State Minister of Finance Yasmin Wohabrebbi with the Milken Institute, a US-based non-profit think tank
June 7, 2021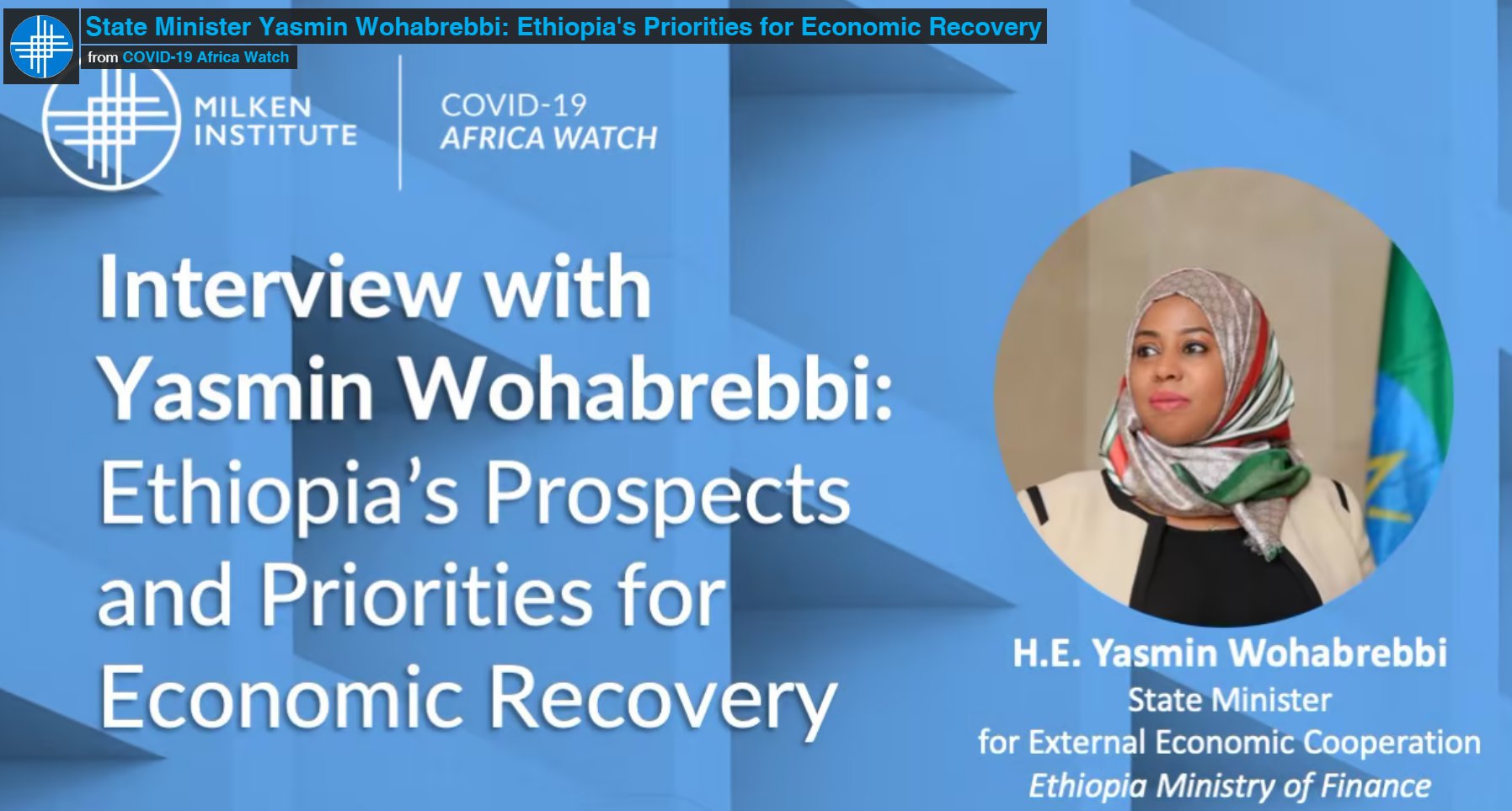 The Milken Institute, a US-based non-profit think tank, hosts an interview series with leaders in the government and private sector on the impacts of COVID19 and alternative impact management policy and strategies. The institute has recently interviewed HE Yasmin Wohanbrebbi, State Minister of finace on the impacts of COVID 19 and the ongoing reform in Ethiopia.
The interview was conducted by Veronica Moraa Nyamweya, an IFC-Milken Institute Capital Market Scholar from the Capital Market Authority of Kenya.
You can read the transcript of the interview below.
Interviewer: Hello, my name is Veronica Nyamweya. I work at the Kenya Capital Markets Authority, and I'm an alumnus of the IFC-Milken Institute Capital Markets Program. Today I am delighted to welcome State Minister Yasmin Wohabrebbi, Ethiopia's State Minister for External Economic Cooperation, with the Ministry of Finance. Welcome.
We are one year into this ongoing pandemic. What is the story of the past year in terms of the economy of Ethiopia, and how are you coping with the latest wave of cases? What are your concerns for the economy looking ahead?
State Minister Yasmin Wohabrebbi: Thank you very much for having me. Nearly a year and a half into the pandemic, we continue to face public health, humanitarian and development emergency as a direct result of the COVID19 pandemic. The economic impact of the COVID-19 pandemic is continuing to affect us. At the initial stage, we took measures that pretty much controlled the effects to keep them at a minimum level, but more recent phenomena are showing us that the pandemic is picking up.
I believe, Ethiopia is one of the few countries across the globe that has managed the pandemic through early planning and response. Our early preparation and planning, both for macro-economic management and emergency response, has enabled us to minimize devastating catastrophes many others faced.
However, despite our best efforts, the Ethiopian economy has suffered a significant and unprecedented shock. The economy has experienced a decline in external revenues due to falling tourism receipts and remittance and a sudden halt in foreign direct investment. Moreover, businesses in tourism, construction, manufacturing and other services sectors have seen measurable closures and loss of employment. In the medium term, the pandemic poses uncertainty on economic recovery.
To address the second part of your question, as we prepare to rebound the economy and build back better with accelerated COVID19 vaccination and community-based preventive measures, the recent surge in COVID19 cases, hospitalization, and death are critical concerns.
We will continue to strengthen our community-led prevention efforts and accelerate vaccination to ensure it will not advance its impact further into the recovery efforts. We have joined the OCVAX initiative with the hope to vaccinate 20% of our population, and we are working with Africa CDC to reach a 60% vaccination rate to create herd humanity. We are in the process of mobilizing the required resources to deliver this target. We will continue to strengthen our community-based prevention efforts, accelerate vaccinations, and make sure that we really stand on our feet and recover fast.
Interviewer: And I can see that your government has put on quite a number of measures to address these hardships while keeping in mind the effects the pandemic has had on the government's fiscal policy. Despite this pandemic, Ethiopia has made progress in areas that seek to encourage private sector growth, access to finance and innovation, including the Capital Markets Proclamation and the national Digital Payments Strategy. Can you tell us a bit more about these efforts and how they will boost the economic recovery?
State Minister Yasmin Wohabrebbi: Before addressing this specific question, it is important to note that Ethiopia faced the coronavirus pandemic while it was undergoing major economic, social and political reform to sustain the growth success and strengthen the foundations of the economy.
One of the points that I can mention is that the investment climate has been significantly reformed. We have enacted an investment proclamation, which opens up a lot of sectors for private investors, including foreign investments. Also, creating a "digital Ethiopia" is one of the agenda items, when we look into the latest reforms.
So to address your question specifically, the Capital Markets Proclamation aims to leverage the growing markets for primary issuance of equity and debt securities and create a framework to establish a capital market that will support the development of the national economy through mobilizing capital, promoting financial innovation and sharing investment risks.
The decision was made after careful evaluation of the benefits and costs of establishing a secondary market.
Once established, the secondary market will redevelop the existing fragmented and uncoordinated share markets to a higher level of organization and enhance competition. It will also create a strong legal framework to protecting investors and creating an enabling environment for long-term investments.
In the Ministry of Finance, we're working with the National Bank to support them in all needed technical expertise, as well as in financial resources needed to set up this capital market.
Regarding national digitalization strategy, one of the core objectives of the telecom liberalization process is to drive economic growth by utilizing cutting edge technology. The government's decision to liberalize the sector will enable it to address several binding constraints across the economy and unleash the full potential of key economic sectors such as agriculture, healthcare, logistics, education, tourism, and manufacturing.
Universal and reliable connectivity is a crucial element of digitizing our economy. The recently launched Digital Ethiopia Strategy will create legal and institutional structures to make it easier and more rewarding to do business in Ethiopia.
In this Strategy, we have identified four pillars for the digital economy – establishing a universal national digital ID, expanding digital payment platforms and financial inclusion, promoting good governance by leveraging e-government, and enabling e-commerce. These are supported by the reforms in the power and the telecom sector.
Interviewer: This is quite impressive. It's quite evident that your government has remained focused on progressive initiatives, despite funding challenges. Turning now to the area of international cooperation, how has COVID-19 changed the nature of international and regional cooperation so far for Ethiopia? And how is it likely to further change in the future?
Ethiopia is one of the countries that has strong partnerships with a range of different development partners and international organizations, bilateral organizations, different philanthropic organizations and foundations. On this front, we were having to face a pandemic that was a challenge even for those strongly developed countries, which were hit at an earlier stage, much before Ethiopia started to feel the pain. And yet they didn't let us down.
Moreover, Because of the pandemic, the Ethiopian government had to decide to delay some of our investment projects. We did that, and I personally think it was highly important to have those dialogues. Many of our ministries wanted to keep their projects active, but as the Ministry of Finance, we had to make tough decisions and cut programs and projects, and repurpose some of the resources and funds towards tackling the pandemic.
We have now started the exercise of understanding the details of the impact of this pandemic, and from that, we'll be developing an 18- to 24-month plan to make sure that we recover from it and that we build back better.
We are also identifying key areas where we can work with our regional partners not only to manage the impacts of the pandemic but also improve integration in the post-COVID-19 world. COVID-19 came as a surprise to all of us, and we have looked into how we can use regional platform, such as the Horn of Africa Initiative, can be leveraged in terms of accessing the necessary vaccinations.
Interviewer: You say that the international community has been very supportive, which is great – and we've also seen that with the COVAX vaccine initiative. Also right now, Kenya is keen on the regional cooperation you've mentioned, being your neighbors.
Moving then to my last question, looking to economic recovery going forward. Can you tell us a bit more about the international debt relief initiatives and how Ethiopia is tapping into those?
State Minister Yasmin Wohabrebbi: So, even before the pandemic hit, addressing debt sustainability was our priority.
Ethiopia was one of the few countries to call for bold measures to provide adequate assistance to countries whose external debt situation had been aggravated by the COVID-19 pandemic.
The biggest flagship initiative was the G20 decision to suspend debt service payments. The DSSI, while noteworthy, falls short of the dire needs of developing countries. Since the announcement, the initiative lacked clarity and a framework for requesting and negotiating the terms of debt suspension. Moreover, the G20 communiqué left a broad and very ambiguous statement about multilateral and private financial institutions participation in the program.
This creates a situation where participating in the initiative becomes very difficult because we have a Eurobond, and it has implication on our sovereign credit rating. Private creditors and rating agencies were looking at the initiative and they were very concerned about whether we could service our obligations to private bondholders. So, the signal from the G20 initiative really exacerbated these concerns and affected our credit rating, even if we didn't fail to meet our obligations. We have raised this issue in different forums.
We also needed more clarity to be provided in terms of communication. The absence of one central unit of communication and the need to request DSSI from each bilateral and multilateral partner separately was operationally inefficient. We had to go through a lot of process and back-and-forth, trying to reach an agreement with each partner. There was no centrally managed approach to follow.
Moreover, the DSSI was very short-term (just about eight months), after which it was again extended for six months. Now it's again been extended for another six months. This shows, while the G20 was aiming for a quick response, the fiscal space it was meant to create didn't really give enough leverage for Ethiopia and other African countries to address their social, health and economic issues by delaying debt servicing. As a result, the G20 DSSI initiative has been insignificant in alleviating our debt service burden. For instance, despite our best efforts, Ethiopia only managed to differ just over 15% of the public sector debt payments during the DSSI period.
More recently, as part of the debt conversation, the Common Framework for Debt Treatment was a welcome improvement in terms of providing a broader framework for debt relief. However, even the Common Framework needs flexibility and adequate implementation for it to be effective and address our needs. And for most African countries like Ethiopia, debt will become a global concern in 2021 as many African states remain the most fragile and have been hit hard by the economic and financial costs imposed by the pandemic.
Therefore, the debt relief initiative should go above and beyond debt payment suspension and deferment but also debt forgiveness with a binding commitment from creditors.
As part of our home-grown economy program, one of the focus areas is correcting the macroeconomic imbalance that we have, and particularly (besides controlling inflation, increasing our foreign exchange reserves, etc.), our focus is to ensure that our debt situation improves from the current high to a moderate risk level during the program period. Even before the pandemic, this was already our plan: to engage with our bilateral creditors to have restructuring and re-profiled debt. So we expect that this Common Framework that is now being discussed with bilateral creditors and the Paris Club will help move our debt sustainability standing from high-risk to moderate. That would make sure that we can access finance for the huge investment needs.
Interviewer: This is really interesting nuance on the DSSI and the G20 Common Framework. As you say, flexibility and adequate implementation mechanisms are crucial. Thank you so much for sharing these very timely views and recommendations. These recommendations will also be very relevant for other African countries. Honorable State Minister Yasmin, the Milken Institute and I thank you again for these insights. Please keep up the good work. Goodbye and stay safe. Thank you.
State Minister Yasmin Wohabrebbi: I really appreciate it, so happy to have had this conversation.
Source:Milken Institute